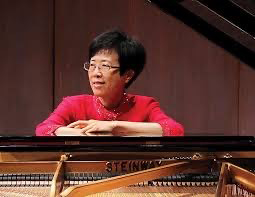 May Ling Kwock, piano
When
Occurs on Sunday May 16 2021
Approximate running time: 1 hour and 15 minutes
Venue
James Hall
7280 Kemano Street
Powell River BC V8A 1M2
Event Notes
×
About the Artist
A graduate with distinction of the University of Victoria, May Ling Kwok first studied with Robin Wood at the Victoria Conservatory of Music and later continued her doctorate studies with the famed Hugarian pianist, Gyorgy Sebok at Indiana University, USA, where she was awarded the distinguished Performer's Certificate.
She is very active as a performer, piano teacher and adjudicator. Concert tours have taken her to the United States, China, Hong Kong, Malaysia, Mexico, Russia and Europe. She has appeared as soloist with the Victoria Symphony, the Montreal Symphony, National Symphony Orchestra of Mexico, Moscow Philharmonic, Vladivostok Symphony Orchestra, the Slovakia Radio Orchestra and the Czech National Symphony.
Also an accomplished chamber musician, she is a founding member of the McPherson Trio.
May Ling Kwok's discography to date are as follows:
Mozart Piano Concerti K. 466 and K. 595, Czech National Symphony Orchestra, Carlton Classics Beethoven Piano Concerto No. 1, Moscow Philharmonic Schumann Piano Concerto, Slovakia Radio Symphony Orchestra Mozart Piano Concerto K. 467 and K. 491 with the Czech National Symphony Beethoven Sonatas for Piano and Violin "Kreutzer and Spring" Shostakovich and Arensky Piano Trio Prokofiev Sonata for Violin and Piano